It's not surprising people don't understand how online products and services work—it's not easy to discover.
People are keen to know what happens to their data, how they can control how much information they share and what protections they have. At the moment they can't find this out.
Instead, they face an almost incessant demand to agree to terms and conditions, which they can't make head or tail of. And people feel resigned to it. Most people don't read or understand them. And many don't believe that companies would adhere to them in any case.
"They know no one is going to read all those terms and conditions – and so you don't know what rights and information you're giving away."
Terms and conditions have long existed of offline — but were reserved for complex products such as mortgages and insurance. People might sign them a few times a year. Now they must agree to T&Cs for almost every purchase and interaction.
89% say that companies should do more to make terms and conditions understandable and clear.
"It's not rocket science to know what sorts of things people are going to be uncomfortable about, so they should be telling you exactly those points—what they're collecting on you."
Currently more than half sign up without reading them (58%) or without understanding them when they do try to read them (51%).
And 43% say there's no point reading T&Cs because companies do what they want anyway.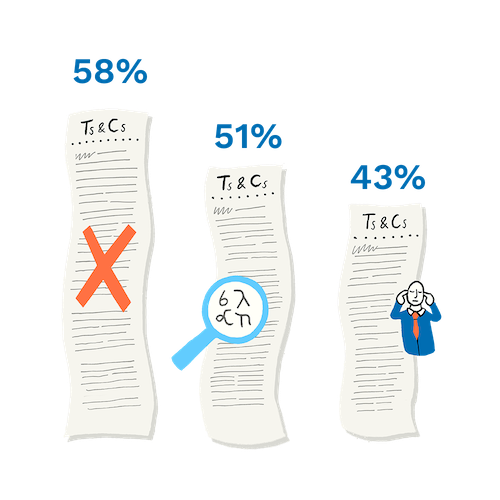 A similar number (47%) also felt they have no choice but to sign up to online services, even where they have concerns.
A smaller number (25%) say they trust technology companies to do the right thing so don't need to understand T&Cs.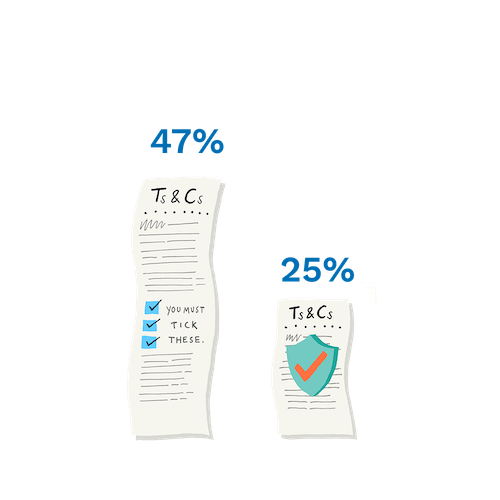 People are particularly keen to understand what happens to their data — 95% say it's important to know their data is secure, 94% say it's important to know how their data is used.
And they would like more control over it — 91% say it's important to be able to choose how much data they share with companies, but half (51%) can't currently find out that information.
But people feel they have no power to address these issues.
Almost half (46%) say they don't like companies collecting information about them, but it's worth it for the quality and convenience of the services.
"It's very invasive. They have too much power but we all want to use those sites so we tick the box."
And 43% say it doesn't matter whether they trust organisations with their data online, as they need to use them in their day-to-day life.
As well as these specific issues, people also place value on broader questions of responsibility — 74% say it's important to know how a company treats its employees, 71% say it's important whether a company pays relevant taxes and 76% say it's important what values a company holds.
In all these areas most people don't have or don't know how to access such information.
This appetite for clarity is matched by a need for accountability. People struggle to identify who to turn to when they face a problem or want answers.
"In other industries – if someone rips you off – you go to the Ombudsman. I don't know if there is an Ombudsman for the internet—but if there is who is it?"
"I don't think there are any rules. It seems to be whatever suits them [the technology companies]."
When asked who, if anyone, should be responsible for enforcing rules that ensure service providers treat their customers, staff and society fairly, 66% of respondents believe government should play a role.
They also want to see companies responding to these questions, with 61% saying they should share this responsibility. And 60% would like to see the creation of an independent body.
There is a need therefore for government, industry and society to come together and address this gap in accountability.
Hide